Police recruitment targets for every force in England and Wales have been announced by the Government as part of its pledge to hire 20,000 new officers.
In the first year of the scheme, the Home Office will provide £750 million to support the 43 forces to recruit up to 6,000 new officers.
The initial target was announced by Home Secretary Priti Patel at a National Policing Board meeting with representatives of frontline officers and police leaders on Tuesday.
Allocations were calculated using the existing Government formula for police funding, sparking some forces to suggest they had been short-changed.
West Midlands Police and Crime Commissioner David Jamieson said the formula favoured "leafy, lower crime areas" that had been less affected by budget cuts since 2010.
In the last nine years police forces have lost around 20,000 officers due to cutbacks, but the Government is now aiming to replace those over the next three years.
Taking into account the number of officers who would leave in that time, and the number of unsuccessful applicants, it is estimated that forces will need to attract 500,000 possible recruits to fill the posts.
Ms Patel said: "The public are clear they want to see more police officers on their streets, whether they live in the city or the countryside.
"This is the people's priority and it is exactly what the Government is delivering.
"Every single police force in England and Wales will be able to recruit additional officers this year to help keep all of our communities safer."
The three forces with the highest recruitment target for the first year are the Metropolitan Police (1,369), West Midlands (366) and Greater Manchester (347).
Others include West Yorkshire (256), Merseyside (200), Northumbria (185) and Thames Valley (183).
West Midlands Police and Crime Commissioner David Jamieson said his force had lost 2,131 officers since 2010 due to budget cuts, but would only receive funding for 1,220 across the three years.
He said: "I am concerned that resources have once again been divided using a blunt and outdated formula that disadvantages areas like the West Midlands and helps leafy, lower crime areas, that have lost fewer officers than forces like ours.
"It would have been more sensible to allocate officers based on the crime threat and need of forces."
His counterpart in Surrey, David Munro, welcomed the "shot in the arm for policing" but said that his force could have received funding for up to 60 officers more over three years if allocation had been calculated on existing budget size.
Surrey has been set a recruitment target of 78 by the end of 2020/21, the first year of the programme.
Mr Munro said: "The addition of 20,000 new officers is a much-needed shot in the arm for policing nationwide and Surrey's share of that uplift will be a welcome boost for our communities.
"However, today's news has left me with mixed feelings. On the one hand, these extra officers are gratefully received and will make a real difference to our residents. But I do feel the allocation process has left Surrey short-changed.
"Using the current grant system as the basis for allocation puts us at an unfair disadvantage. A more equitable distribution would have been on total net revenue budget which would have put Surrey Police on a fair footing with other forces of a similar size."
The Government's funding for recruitment in 2020-21 will cover all associated costs, including training and kit.
All new recruits will be on top of those hired to fill exiting vacancies, the Home Office said.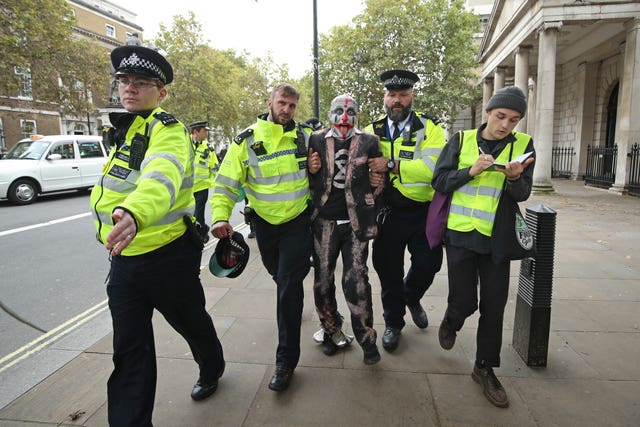 The National Policing Board was set up by Prime Minister Boris Johnson in July to help achieve the Government's recruitment pledge.
Police Federation of England and Wales national chairman John Apter said: "Investment in policing is long overdue and for the first time we now have the actual number of officers each local force will increase by in the next year.
"These figures have been based on the current funding formula models, and while this method is not perfect, I accept it is the only solution available to deliver the numbers quickly in year one.
"We now need to ensure that the formula is revisited for future years to ensure a fairer allocation of officers across all forces, but this is certainly a positive start and will provide a much-needed boost to my members and the communities they serve."