Yotam Ottolenghi describes writing his third vegetarian book as a "no brainer" as "there's been such an explosion in vegetable interest, in people adopting a vegetarian/vegan/vegetable-focused diet."
Rather than using meat substitutes or hiding veg, Flavour is all about celebrating vegetables, and few dishes exemplify that better than this. Featuring both roasted and pickled celeriac, the root vegetable is the star of the show.
Roasted and pickled celeriac with sweet chilli dressing from Ottolenghi FLAVOUR by Yotam Ottolenghi and Ixta Belfrage
Ingredients:
(Serves two as a main or four as a side)
For the roasted celeriac:
1 large celeriac, hairy roots discarded (no need to peel) and scrubbed clean (900g)
60ml olive oil
2 spring onions, finely sliced at an angle, to serve
5g picked Thai basil leaves, to serve
Flaked sea salt
For the pickled celeriac:
1 medium celeriac, trimmed, peeled and cut into thin, 6cm-long batons (500g)
3 celery sticks, cut into thin 6cm-long batons (120g)
2 garlic cloves, skin on and crushed with the side of a knife
3 limes: finely shave the skin to get 6 strips, then juice to get 60ml
150ml rice vinegar
For the sweet chilli dressing:
120ml sunflower oil
5 garlic cloves, very finely sliced
3 red chillies, finely sliced into rounds (30g)
2 whole star anise
1½ tbsp white or black sesame seeds, or a mixture of both, well toasted
2½ tbsp maple syrup
1 tbsp rice vinegar
60ml soy sauce
2 tbsp chives, finely chopped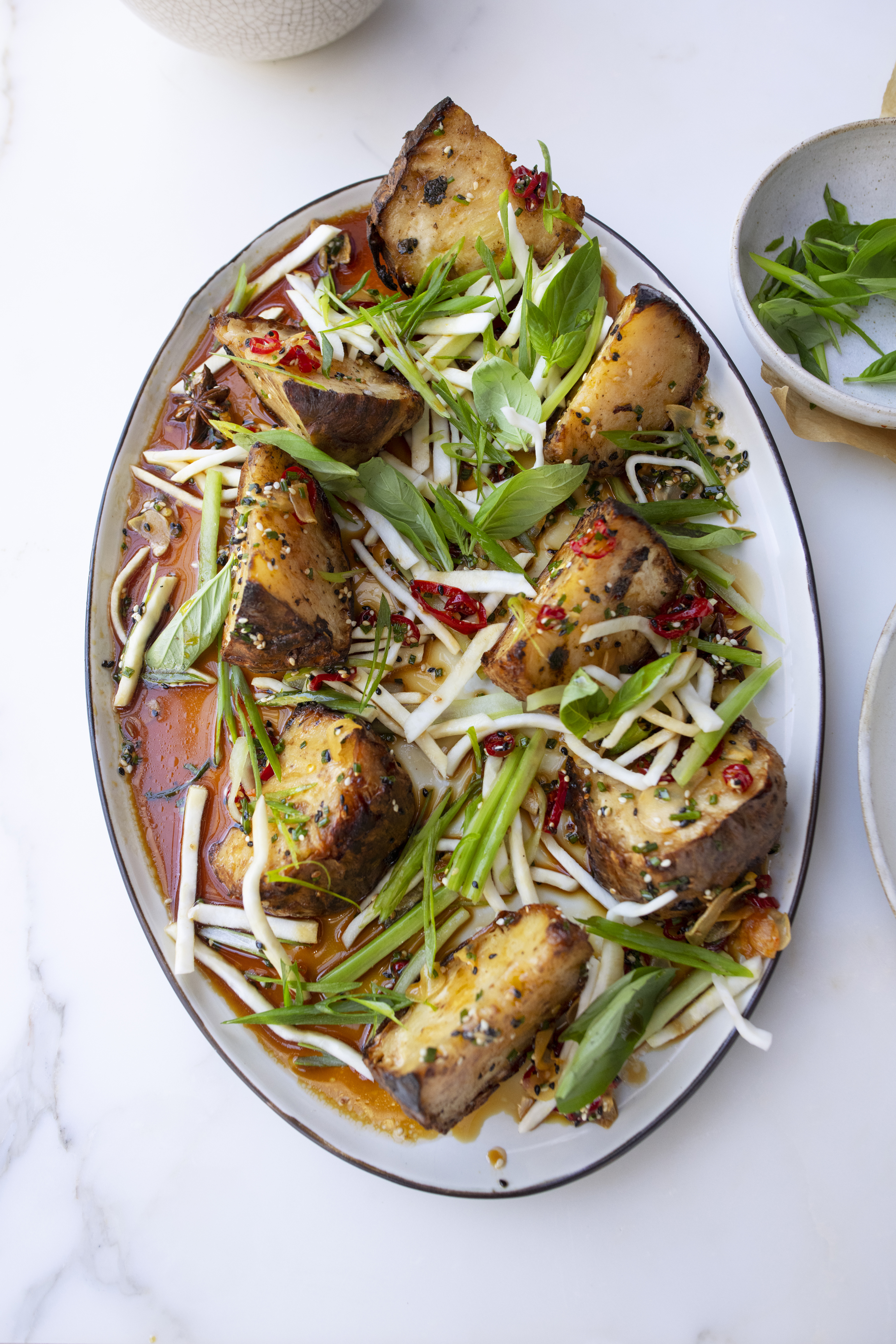 Method:
1. Preheat the oven to 170°C fan.
2. Pierce the celeriac with a fork all over about 40 times and place on a parchment-lined baking tray. Mix the oil and one-and-a-half teaspoons of flaked salt, then rub the celeriac generously with the oil mixture. Roast for a minimum of two-and-a-quarter hours, or up to two-and-three-quarter hours, depending on the size of your celeriac, basting every 20 minutes or so, until the celeriac is deeply browned, soft all the way through and oozes a celeriac caramel.
3. Leave to rest for 15 minutes, then cut into eight wedges, brushing each cut side with the oil and caramel left on the tray (you may need to add a little more oil if there isn't enough to coat the cut sides).
4. Combine all the ingredients for the pickled celeriac with 20g flaked salt in a large bowl and set aside for at least two hours, stirring now and then, while you prepare the rest of the dish. You can make this up to three days ahead and keep it refrigerated.
5. Heat the sunflower oil for the sweet chilli dressing in a small saucepan on a medium-high heat. Once very hot, add the garlic, chillies and star anise and fry for two to two-and-a-half minutes, stirring to separate the garlic slices, until the garlic is crisp and pale golden (it will continue to colour after you take it out of the oil, so don't take it too far). Strain through a sieve set on top of a small heatproof bowl to collect the oil. Set the fried chilli and garlic aside, to serve. Remove 80ml of the aromatic oil and reserve for another recipe. Combine the remaining 40ml of oil with all the remaining ingredients for the dressing.
6. Preheat the oven to 200°C fan.
7. Place the roasted celeriac wedges on a parchment-lined baking tray, cut side up. Make sure they've been brushed with their cooking oil and celeriac caramel by this point, and if not, brush with some olive oil and a little maple syrup or honey. Roast for 20 minutes, or until golden-brown.
8. Arrange the wedges on a large platter and sprinkle with a little flaked salt.
9. Add the fried chilli and garlic to the dressing and spoon over and around the celeriac. Top with 200g of the pickled celeriac mixture, avoiding the pickling liquid, garlic and lime skin. Garnish with the spring onions and Thai basil, and serve.
Ottolenghi FLAVOUR by Yotam Ottolenghi and Ixta Belfrage, photography by Jonathan Lovekin, is published by Ebury Press, priced £27. Available now