Rachel de Thample says these glazed or jam-filled doughnuts are her idea of the perfect sweet treat.
Featured in her new book, Fermented, here's to make sourdoughnuts…
Sourdoughnuts recipe
Ingredients:
(Makes 8–12)
For the dough:
250g active white sourdough starter
250ml warm whole milk
500g strong white bread flour, plus extra for dusting
2tbsp melted butter
2tbsp raw, organic caster sugar
1tsp sea salt
2 large eggs, lightly beaten
For deep-frying:
1L rapeseed or sunflower oil
For chocolate-glazed doughnuts:
100ml single cream
1tbsp melted butter
100g dark chocolate, finely chopped
For icing-glazed doughnuts:
2–3tbsp warm whole milk 100g icing sugar
For jam-filled doughnuts:
1tbsp jam per doughnut
100g icing sugar
You will also need:
7cm plain round cutter
3cm round cutter (for ring
doughnuts only)
Fermentation time:
8–12 hours, or overnight
Proving time:
1 hour, plus 30 minutes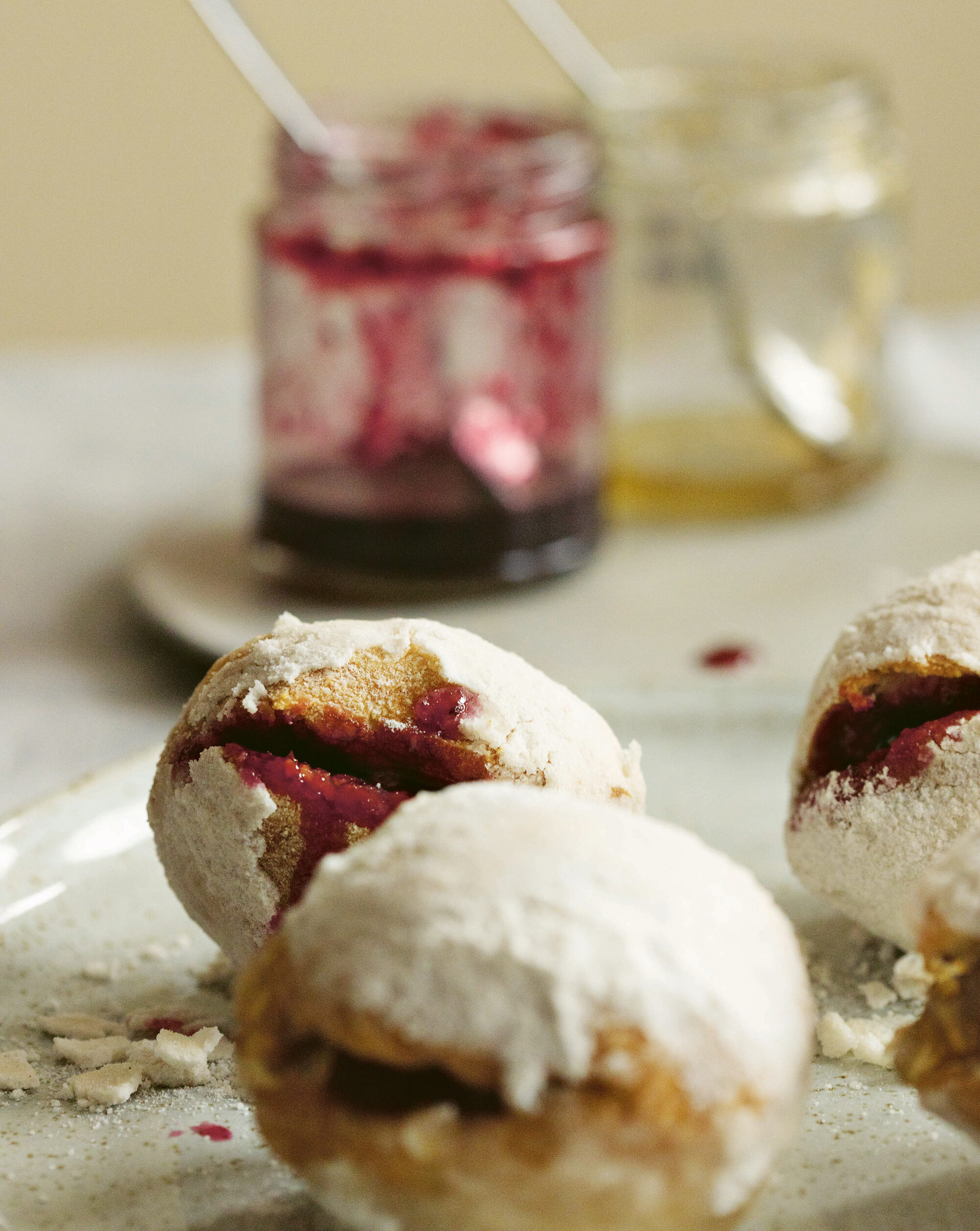 Method:
1. In a large bowl, mix the sourdough starter with the warm milk, flour, melted butter, sugar, salt and beaten eggs to form a smooth dough.
2. Turn out onto a floured surface and knead well for five to 10 minutes until the dough is stretchy. Transfer to a bowl, cover with a damp cloth and leave to rise at room temperature for eight to 12 hours or overnight, until doubled in size.
3. Tip the dough out onto a well-floured surface and pat or gently roll out to a 1cm thickness. Use a 7cm cutter to stamp out rounds. Reroll the trimmings to cut more doughnuts.
4. Cover the doughnuts loosely with a tea towel and leave to prove in a warm place for about one hour until almost doubled in size. When you press the dough gently with a finger, it should bounce back.
5. For jam-filled doughnuts, leave the rounds whole. If you fancy glazed doughnuts with holes, cut out 3cm holes from the centres (you can fry these, too). Transfer the doughnuts to a floured baking tray or board and cover with a clean tea towel. Leave to rise in a warm place for 30 minutes.
6. Meanwhile, prepare your chosen glaze or filling.
For chocolate-glazed doughnuts, pour the cream into a pan and gently heat to just below the boil. Put the butter and chocolate into a bowl, pour on the warm cream and stir until melted and smooth.
For icing-glazed doughnuts, whisk the warm milk and icing sugar together until you have a smooth glaze the consistency of single cream – it should coat the back of a spoon.
For jam doughnuts, put the jam in a bowl and stir to soften it if necessary. Sift the icing sugar into a dish.
Heat the oil in a deep-fat fryer or large, heavy saucepan to 190°C (or until a small piece of dough (cut from a ring doughnut, for example) dropped into the hot oil turns golden in 15 seconds.
7. Deep-fry the doughnuts, one by one, for about two minutes each, until golden. Use a slotted spoon or tongs to turn them in the oil and to safely remove them once cooked. Transfer to a plate lined with kitchen paper or a wire rack to drain.
8. Glaze or fill the cooked doughnuts while they are still warm. With ring doughnuts, dip one side of each into the chocolate or icing glaze to coat generously, then place on a board and leave to set before eating. With whole doughnuts, use the end of a teaspoon to poke a hole in the side then use the spoon to gently ease two to three teaspoons of jam into each one. Roll the filled doughnut in icing sugar until well coated and leave to cool before eating.
River Cottage Handbook No.18: Fermentation by Rachel de Thample, photography by Gavin Kingcome, is published by Bloomsbury Publishing, priced £16.99 (rivercottage.net). Available now.