Michel Roux Jnr is very upfront. "I stole this recipe from my wife," he says, eyes crinkled, mouth grinning.
The chef and restaurateur is explaining how to make a savoury tarte tatin – over Zoom, no less – and doing it at such incredible pace, that if he hadn't recommended leaving a cloth on the hot metal handle of a frying pan, after it's come out the oven, I definitely would've destroyed my hands.
Here's what else he shared as we cooked…
Making a French-style vegetable tarte tatin is a doddle – and very versatile. "This would be great with beetroot," says Roux, as we layer par-roasted onions, carrots, chilli, turnip, parsnip and endives into that ovenproof frying pan, slick with sugar and melted butter. "Really tuck the puff pastry in around the vegetables." Twenty-minutes in a hot oven, and it was done.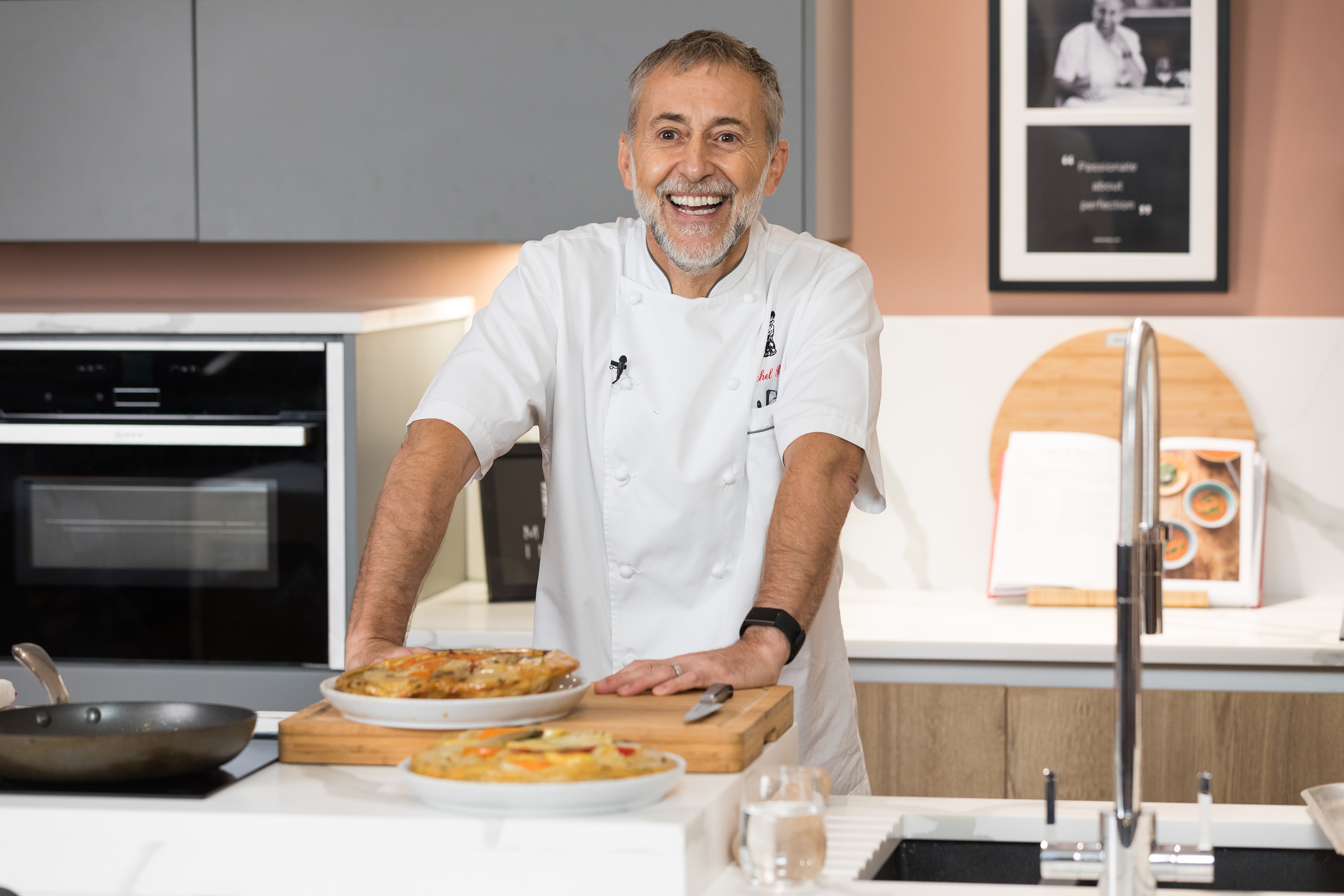 As far as Roux's concerned, kitchens should be functional as well as beautiful (and he should know, he's just co-designed one with Homebase). "The kitchen is the hub of your house or your flat, it's where you spend most of your time. People congregate in the kitchen; everything happens in the kitchen, from breakfast with your partner or with your children, to a late night drink when you come home. It's an important part of my life."
He's incredibly speedy at chopping veg, and wouldn't be without his chef knives. "As a chef, the most important thing is a good set of knives – and sharp knives. I'm not so keen on these brand new gizmos, all these modern fandangle things – sous vide cookery and, you know, soda siphons you put cream in and such like. I'm a little bit old-fashioned in that respect."
In fact, he cherishes the knives he has from his apprenticeship – "and that was in 1976, my apprenticeship. So that's going back a few years. They're made out of regular steel, not stainless steel, so they're a little bit pitted and they've gone rusty. But I treasure them."
He spent lockdown cooking at home like everybody else… "which was really different, because normally I'm never at home. I'll have breakfast, and then I come back late in the evening. So cooking for my wife and myself was really, really nice. It was a pleasant change. But I must say, it was a bit of a relief when we were allowed to go out in restaurants. And I think even for my wife, I mean, she likes my cooking, but it was good to eat something different."
The first thing he ate when restaurants reopened was Japanese food. "I missed really good sashimi."
He's approaching the impact of Covid on restaurants as a challenge. "If you don't like a challenge in the hospitality industry, then you're not made for the industry. Something that I really enjoy is a challenge, and this certainly is one. We have to stay positive, although there are days where it's very difficult to stay positive, but you've got to find an angle, find something – turn that negative into a positive, if it's possible."
It's all about adapting to the circumstances. "I'm looking at different ways of delivering food, but still making it an experience for our guests. If we can't open till midnight, well, we're gonna open earlier. And I guarantee you people will come and eat earlier. And we're going to make sure they're well looked after."
He's excited about autumn fare. "Beautiful wild mushrooms – and in about a month's time, we'll be getting the first winter truffles as well. That's a little bit of an indulgence, but something to look forward to. And the game season. I love game as well, and long slow cooking. Winter nights are coming in. It's going to be dark soon at four o'clock in the afternoon, so that's another reason to go out and eat early!"
Roux Kitchens, an exclusive kitchen range developed in collaboration with Michel Roux Jr, is now available from Homebase's new concept store, Bathstore & Kitchens by Homebase.